This is for the girl who has these type of body goals ...
And in this type of mood ...
One minute you get super motivated to hit the gym or go run for a couple miles when you see that girl you follow who's always working out on Instagram. But, then when the time comes, we're tired, we don't feel like, or maybe we just don't have enough time. Girl, don't worry. You are not alone. I too fall in this pathetic category, but if you're willing to change this...I am too.
"For inactive people, doing any kind of activity will benefit their health. The American Heart Association recommends that inactive people gradually work up to exercising three to four times a week for 30-60 minutes at 50%-80 % of their maximal heart rate (webmd.com)." Too many of us are couch potatoes. As for me, I'm either running after my 15-month-old, cleaning and straightening up, or sitting behind my laptop working all day. I'm usually way too tired in the morning (even after my cup of coffee) to get a workout in and I get way to caught up in my day to even consider getting a workout in. I'm just a really unhealthy person. But, I want and need to change that. Not only for my health, but to be an example for my baby boy too.
As I begin my fitness journey, I've found a few workouts for the girls, like me, who just don't feel like it.
FLATTEN YOUR TUMMY -- IN BED
If your usual morning "exercise" is waking up, flicking the coffee on, and getting back into bed, you can still sneak in some tummy toning with this move from Andrea Mitchell, a New York City--based Pilates instructor (who trains all those bikini-wearing supermodels). It works your front and side abs.
Step 1: Sit up on the bed with your knees bent; keeping your toes flexed will help you stabilize on the mattress. Lean back at a 45-degree angle as you pull your abs in tight.
Step 2: Holding a pillow with both hands, keep your shoulders down, away from your ears, and slowly twist your torso to the left.
(Source for this workout: redbookmag.com)
THE BETTER-THAN-NOTHING SEXY LEGS WORKOUT
Stand with your feet a little wider than shoulder width apart, toes turned slightly out. Each time you retrieve an item of laundry from your basket, slowly bend your knees and lower yourself into a squat. Go as far down as you can while still keeping your back straight and not letting your knees extend past your toes.
Slowly push back to standing, and repeat until your load is folded. Then go check out how good your butt looks in those freshly washed jeans!
(Source for this workout: redbookmag.com)
Bicycle Crunches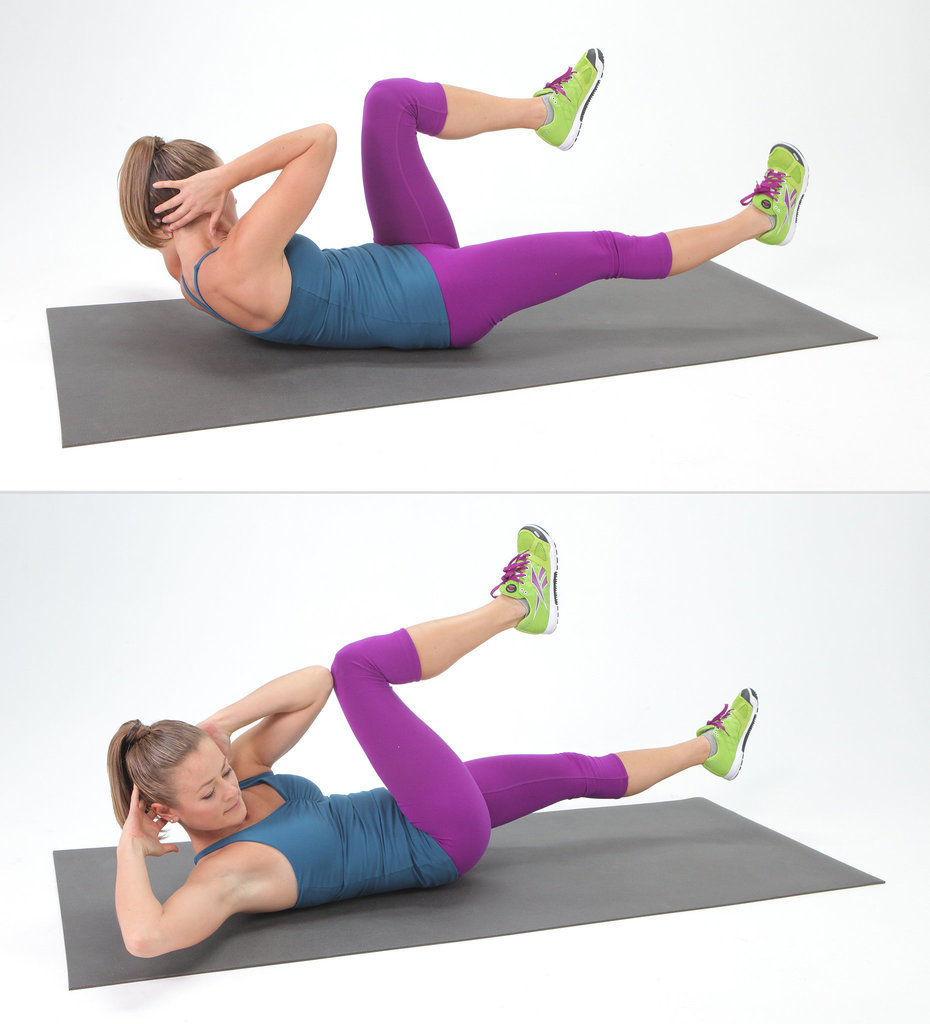 Considered one of the most effective ab exercises, this move really works the obliques. Here's how:
Lie flat on the floor with your lower back pressed to the ground (pull your abs down to also target your deep abs). Interlace your fingers and put your hands behind your head.
Bring your knees in toward your chest and lift your shoulder blades off the ground.
Straighten your right leg out to about a 45-degree angle to the ground while turning your upper body to the left, bringing your right elbow toward the left knee. Make sure your rib cage is moving and not just your elbows.
Now switch sides and do the same motion on the other side to complete one rep (and to create the "pedaling" motion). Do this exercise with slow and controlled motion.
Do 10 to 20 reps.
(Source for this workout: popsugar.com)
Plank With Donkey Kick
Kick your planks into high gear by adding a small leg lift. This move requires extra strength, as it will challenge your core while toning your booty and hamstrings. Here's how:
Begin in an elbow plank with elbows directly under shoulders, abs engaged toward the spine. Don't let the pelvis sag down or pop up.
Lift right leg off the ground, bending your knee so the sole of your foot is toward the ceiling. Keep your pelvis square to the floor. Don't let your pelvis twist.
Press your right heel toward the ceiling as high as you can without moving your pelvis or lower back. The motion will not be huge but rather concentrated on the booty and hamstring.
Lower the bent leg slightly and repeat for a total of eight to 10 repetitions. Then switch sides.
These workouts are good for getting started! Find more workouts like these on Pop Sugar and Red Mag.
Fitness challenge coming soon 🙂